Julie Conway Drever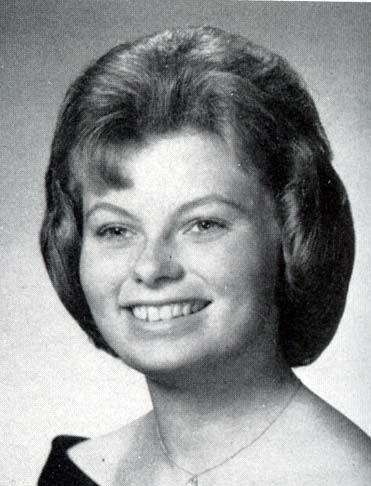 1964
Yearbook
&nbsp
6 photo(s) posted.


| | | | | | | |
| --- | --- | --- | --- | --- | --- | --- |
| Status: | Confirmed 2013-03-27 | Email Addr: | Yes | Private Profile: | No | No Profile Created |
---
Biographies:
2004
I attended grade school and junior high in La Mesa and went to Helix for my freshman year of high school. We moved temporarily to Spring Valley where I spent my sophomore year at Mt.Miguel. Then we moved to Santee where I settled into my junior and senior year's at El Cap. As a result of moving around so much during my high school years, I really didn't know too many people from El Cap's Class of '64. My senior year I was on the drill team, which was the highlight of high school for me. I had been a pretty good student, but really lost interest in my studies my senior year. My parents expected me to go on to college, but I really didn't look forward to continuing my education after graduation. So I made minimal effort to get there. But with no real skills to qualify for a job, find work and support myself, I decided to enroll at Grossmont Junior College. There I took Liberal Arts courses and spent a lot of time in the Student Center where a bunch of us who had graduated from El Cap hung out together. After a couple of years at Grossmont and one semester at San Diego State, I decided that what I REALLY wanted was to quit school and work in order to have the financial means to move away from home. So that's what I did for a while until, on a lark, I moved to Florida. I learned though that after living away from my family for five years that being nearer to them was pretty important. So I moved back to the San Diego area in 1973 and went to work for the Navy at the Naval Air Station, North Island. There I met my husband, Dan. He was the Maintenance Chief of an aircraft squadron and was just returning from his seventh cruise to Viet Nam on board the USS Constellation. When we got married (30 years in April 2004), he had a 13 year old daughter and I had a 4 year old son. We both worked at North Island until he retired from the Navy and we moved to Whidbey Island, Washington. I transferred my Civil Service status there and had a job before we moved. Within a year Dan also got a Civil Service postion working Quality Assurance for aircraft contracts. When I started working for the Navy, I was only a GS-3 Clerk. Before retiring, I had worked my way up the Civil Sevice ladder to a GS-12 Program Manager position that was Special Assistant to the Commanding Officer of the Naval Hospital on Whidbey Island. As a Management/Financial Analyst, I conducted special studies and internal audits for the Command. My husband's position required a lot of traveling and we both were under tremendous stress with our respective jobs. The time came when we decided it was time to retire (for me an early retirement with 20 years and for Dan his second time). For 17 years we lived on Whidbey Island and enjoyed the beauty and serenity of living in such an isolated place. But when we made the decision to retire, we started looking for a place closer to civilization and much WARMER. So in 1993 we moved to the Tampa Bay, Florida area - a small town called Tarpon Springs. We both continue to work part time (someday another retirement, maybe) in a country store to help support our passion for traveling. We have been fortunate to have seen and experienced a great part of the world, including pretty much all of the U.S., Western Europe, most of Eastern Europe, Russia, most of Canada, Thailand, Ireland, Egypt, Greece, Turkey, Malta, Mexico and Central America. Our trip this year will be to China. We also make annual trips to the Florida Keys where we enjoy our other passion - the beach and snorkeling. I am looking forward to attending the reunion, spending time with some dear friends from the El Cap and Grossmont days and visiting with my family who still live in California - my brother and Step-Mom in the L.A. area and my sister and Mom who live near San Jose.
1 Bio(s) posted.
---
<!- include9.inc.php -->

<!- end div id=main from include1.inc.php -->